So, it's been a pretty insane two years in this community. Only been really active here for what feels like little amount of time yet so much has happened. Personally as someone who only really does illustrations and barely delved into animations, not a lot has happened. I don't even do music nor games, so I have really nothing for that. HOWEVER, I think this year has got to be the better year than my previous one and I am so SO thankful for the NG community for the opportunities they've given to me and how I was able to show off a lot of fun art I make. I also see you people calling my art the "One Piece" style in the comment section and I take all that as compliments since I really do enjoy that series a lot. Lol.
The Big Ones:
During the month of July, the Summer Lovin' Animation Jam was announced. During the period, I created two entries for this event. I never saw myself winning a place or anything as I just do a lot of these events for fun, so I wasn't nervous or anxious, but I wanted give my own shot at making a short animation loop of my characters for this jam. I do thank my friend, BrandyBuizel, for even showing this opportunity as it gave me a good look to what's like with making an animation loop as this is something I really wanted to be part of this.
These weren't winners but I was so thrilled to see my second entry be put into Endless Summer Lovin' [COLLAB] movie! And not only on the NG website, but I also ON THE NEWGROUNDS YOUTUBE CHANNEL, WHICH WAS A HUGE SURPRISE FOR ME. (I did cry irl btw when I saw this :'} )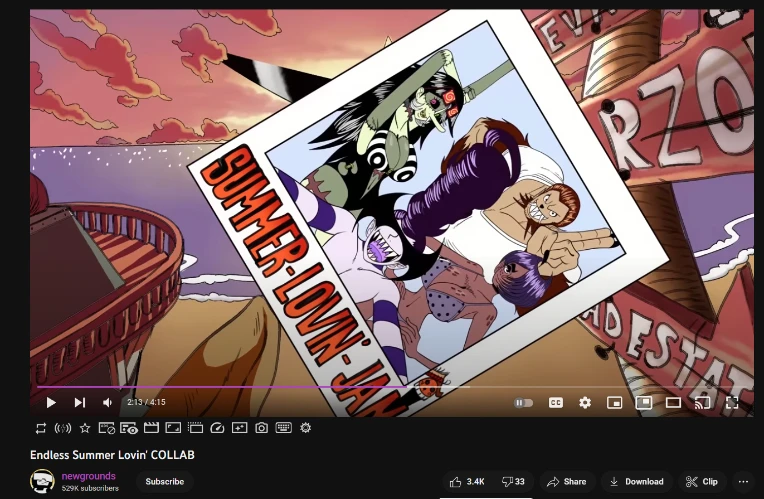 Back in October, I was given an opportunity, by Dungeonation, to create two faces for the 10 year anniversary of Faces of NG collab. It was small, but really happy to show more of my art in this little quiz game of more recent Newgrounders that were present. Much thanks to Dungeonation for crafting up this game!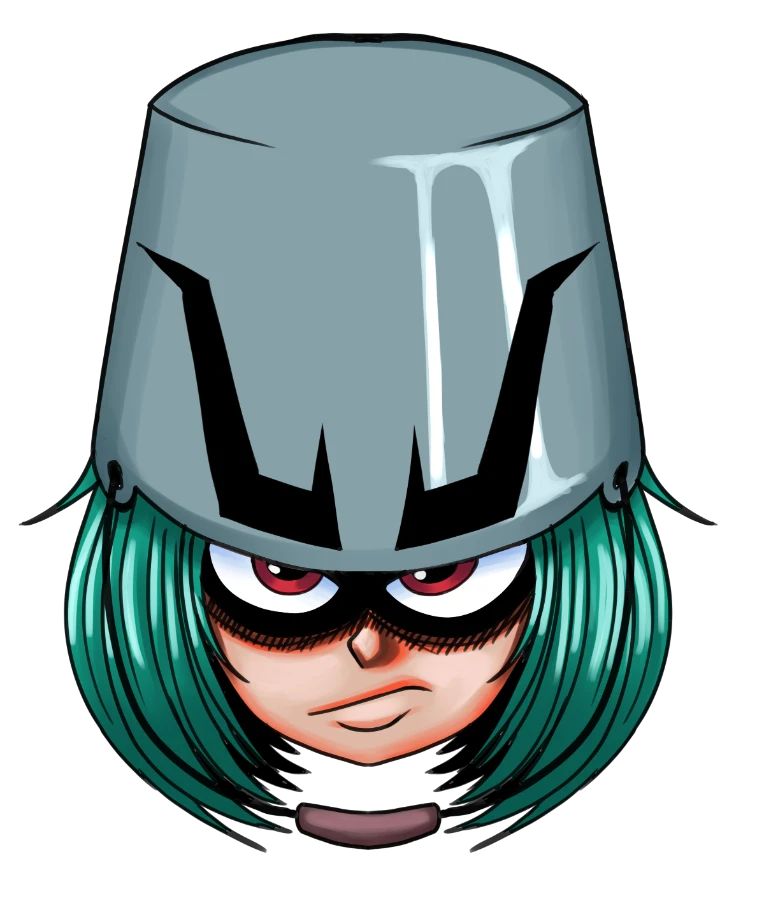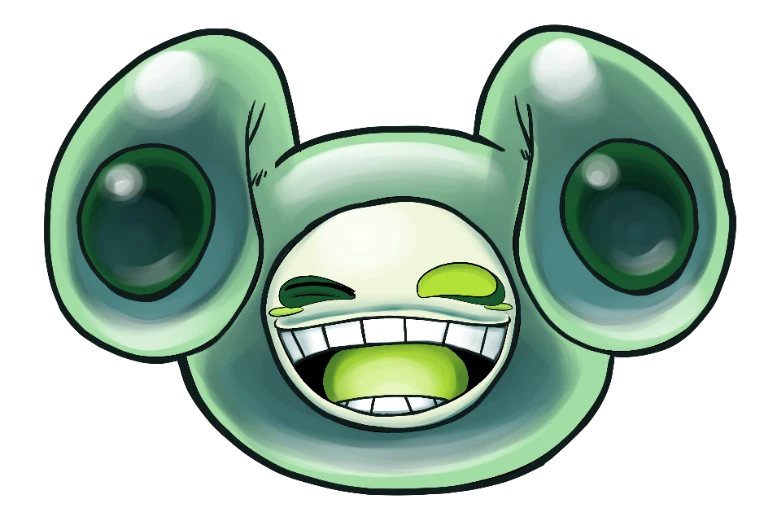 Now for more the most recent event in NG, Tankmas ADVENTure 2022 was very huge for me. Probably my biggest project yet. BrandyBuizel, has yet again, given me an opportunity to create an actual comic for Tankmas! Now, this was my first time creating a small story where I actually had to make my own characters interact with each other. I don't have any knowledge really when it comes to creating stories, but this was still a fun way to get the idea of what's like to create a story of sorts. Personally, I was never really thrilled with how the dialog came out. It did felt kinda weird for me making this, but it is my first time. I got told there were grammar errors, but overall the feedback was very positive and i'm hoping to keep improving in comic making! Also HUGE thanks to immadametal for the help with making the story for this event!
If you're wondering why the full pages in the art portal version are different than the cut up versions in the Tankmas game is because due to the size of the dialog and art, the resolution was really low quality and unreadable. BrandyBuizel gave me the idea, however, to cut up the panels since they were just rectangle and squares. It was not a fun process as it took WAY too long to go through each page and cut it up. But in the end, everything did worked out. I am so thankful for the Tankmas crew in what they done. Seeing all the artwork made by the other artists too was a phenomenal time.
What I'm Hoping For This 2023:
This is already obvious for some, but I am in the very slow process of creating and learning comic making. I just don't wanna draw characters but make a story out of it. It's a stressful process as i'm putting my foot into something huge that i've never done before. My goal is to create probably two arcs for my story with something simple that introduces the characters. I've always wanted to create a fun story that anyone can enjoy, and God willing, I would love to keep learning and still draw what I enjoy doing. It's been a huge blessing seeing others express their love for the illustrations I create. Even getting special guests randomly discovering my works too. So, if possible, I wanna keep working hard on my project.
Smaller goal, but, still keep on creating colorspread like illustrations. These pieces take a WHILE to make BUT these pieces help out a lot when I wanna make something with backgrounds. So depending on events, holidays, or just random ideas in my mind, expect more art like this in 2023 too. :}
Juggling Work and other IRL stuff with Art making:
I'm still a human being who has to get that bread for bills and other necessities for the family and myself. I also go through struggles like any other human being. I'm a broken man. Work can be insufferable and really discouraging to me since I feel like I can do so much more outside of work. I have the talents and skills i'm learning and I always wish I can just walk out. However, it's not that simple. Heck, I even get so stressed and angered that I don't feel like even making art. I, however thank a God that i've looked up to for three years already. I'm gonna through so much suffering, storms, trials, etc. in my life. Work is part of that process as I learn what's like to work under stress, with people, having to finish things in limited time. All that. Obstacles like this, even stuff happening outside of work, is what makes our character grow. In the end of all this, I put God first in everything I do and follow what's priority by doing the will He wants me to do. I don't know what my future will be. It's all foggy. But, I do know who knows. I shouldn't have to worry what lies ahead as I focus on what is in front me now. I don't even know if art making will be the thing I do in my life forever. Everyday though, I give thanks and praise for everything He has done for me. And once I eventually start going through trials and storms, I do it with a smile on my face because I know it what's produces the steadfastness and perseverance I need to be stronger and more courageous in life. :)
I have learned through the work i've done and through the NG community as a whole. I've really learned a lot of what it's like to be humble. To work for the goal. Other social media sites never give that lesson at all. Everyone just feels so desperate and so mean. Everyone stepping over each other just to get something that's temporary. But Newgrounds just hits different. I am so so blessed with this community. I love learning what I need to do step by step just to slowly get there. I enjoy the process more than having to just claw at something. I've always said this a lot to everyone, but popularity is a curse. I'm happy to be in a smaller circle than in a huge circle. Lol.
From the deepest of my heart, thank you to my friends, peers, and NG for giving the most have I had as an artist. God bless all of you and have a great New Years.
Philippians 4:13/Joshua 1:9/Hebrews 10:35-36